If pull-apart bread and scones had a baby, it would be scone bread. This French Toast Scone Bread packs in warm cinnamon and hints of maple in a fluffy pull-apart loaf.
Soooo many things to talk about today. First, my love of breakfast sweets. Ever since I can remember, I've loved muffins, scones, bread pudding, pancakes, french toast… If it's a dessert that can be eaten for breakfast, I'm a fan.
Seriously, how genius are desserts disguising themselves as breakfast foods? I applaud whoever made the first coffee cake/dutch baby/challah french toast/et cetera
So when given the opportunity to make a scone recipe using a King Arthur Flour mix, french toast scone mix was clearly the best choice. Warm and spiced cinnamon with maple and vanilla? Check. Fluffy, soft scones? Check. Perfectly crispy scone crust? Check. Maple syrup glaze?
You see where I'm going.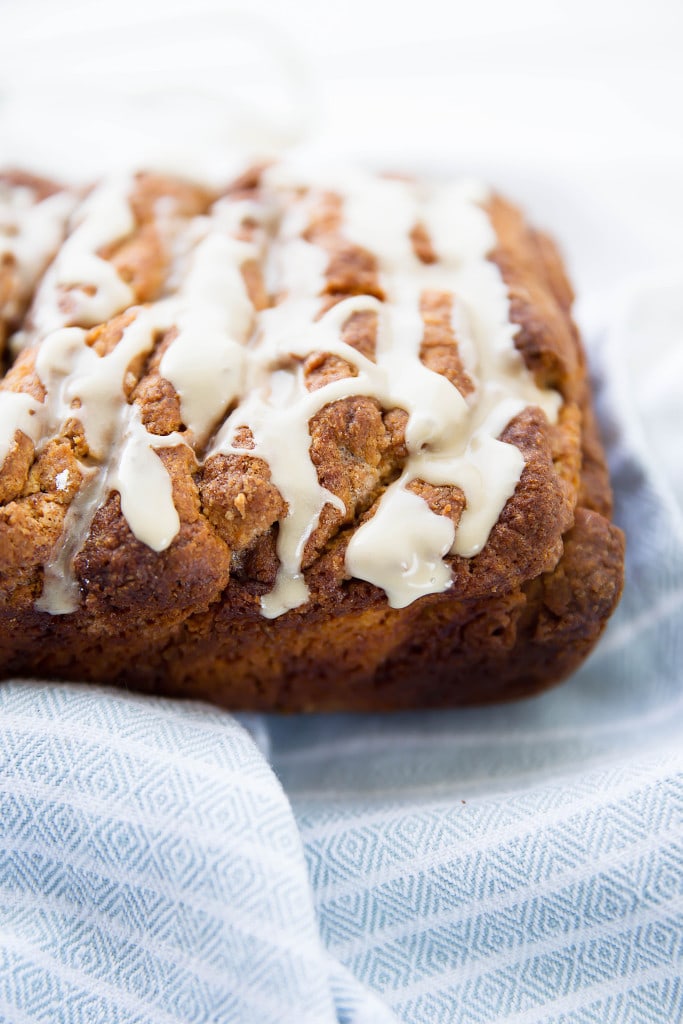 Now I for one prefer making baked goods from scratch. Boxed mixes are fun for rainy days, but I get so much more satisfaction out of making something myself. Plus, boxed mixes taste like they come from a box.
Who wants that?
Then there's King Arthur Flour. Quite possibly my favorite baking company out there. Founded in 1790, they are the oldest flour company in America. Not only do they sell a wide range of flours, but they also sell a wealth of baking ingredients, baking tools, and a fabulous line of mixes (like French Toast Scone Mix!). Their website has tried and tested recipes, their Instagram is a source of daily inspiration, and they provide educational opportunities and classes at their headquarters in Norwich, Vermont. Plus, their flours are available in most grocery stores (for a full list of where you can buy their products, click here).
I'm not sure if it's the New Englander in me that appreciates New England companies, or the fact that they're 100% employee-owned, or that they donate at least 1% of their annual net revenues to environmental organizations every year, or that their products are of amazing quality, but I love King Arthur Flour.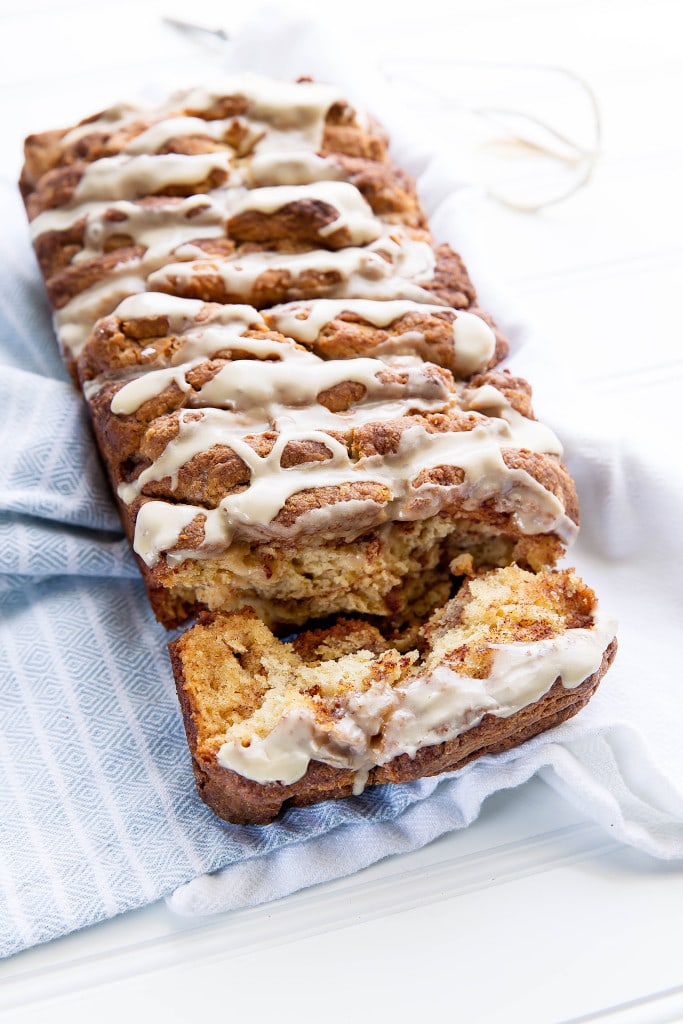 The reason is probably: e) all of the above.
And guys. I can't tellllllll you how good this scone bread was. Like, so good that Alex (who doesn't eat sweets, as we all know) ate about half of the loaf in one sitting while watching Grand Budapest Hotel. I ate about a quarter then, and the remaining quarter the next morning.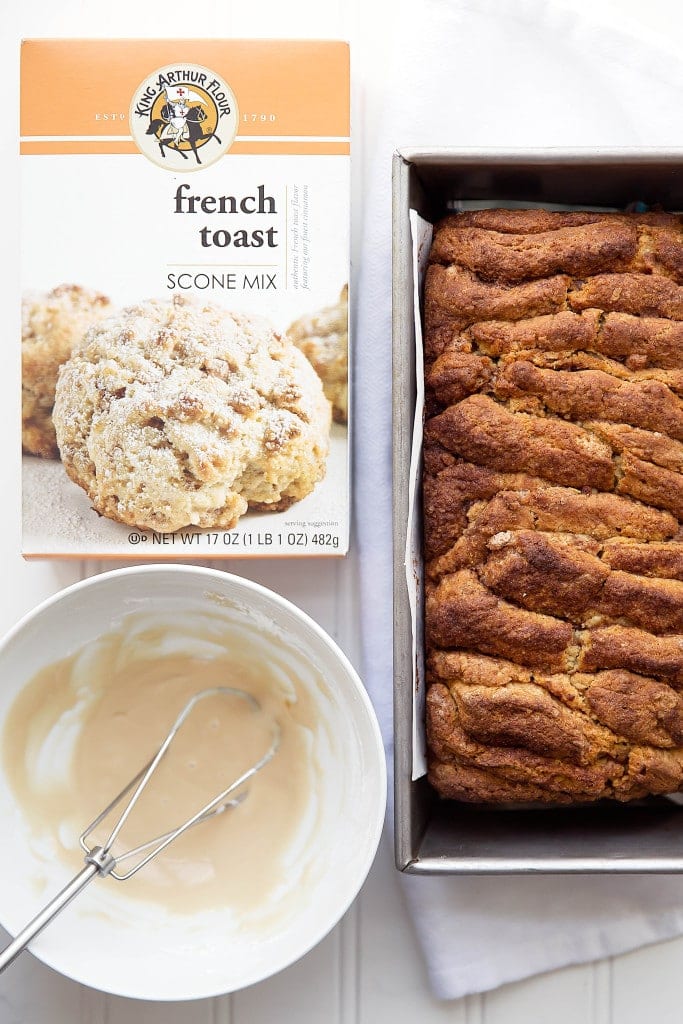 So without further adieu, I'm so pleased to host a King Arthur Flour Giveaway!
Two lucky readers will each win a $25 gift certificate to King Arthur Flour. With your gift certificate you'll be able to choose from a plethora of bread mixes, flours, extracts, chocolates, bakeware, and more!
Personally, I enjoyed the French Toast Scone Mix. Did I mention that already?
To enter, follow the Rafflecopter instructions below. Two winners will be randomly selected next week. Good luck!
Print
French Toast Scone Bread
Author:
Prep Time:

25 mins

Cook Time:

50 mins

Total Time:

1 hour 15 mins
Scale
Ingredients
For the scone bread
8 tablespoon

s cold butter, cut into pats

1

large egg

1/2 cup

milk
For the middle bit
2 tablespoon

s butter, melted

1/2 cup

brown sugar

2 teaspoon

s ground cinnamon
For the maple syrup glaze
1/3 cup

powdered sugar

1 tablespoon

heavy cream

2 teaspoon

s maple syrup
Instructions
Preheat oven to 375°F. Line a large loaf pan with parchment paper.
Work butter into mix until everything is crumbly. In a separate bowl, stir together egg and milk. Add to dry ingredients, stirring just until moistened. If needed, drizzle in another tablespoon of milk to make dough hold together.
On a lightly floured work surface, roll dough out into an 8″x12″ rectangle. Spread melted butter over the entire surface, then sprinkle with brown sugar and cinnamon. Use your hands to rub everything into the dough.
Using a pizza cutter or sharp knife, cut the dough in quarters horizontally, yielding four 2″x12″ rectangles. Cut the four strips in quarters vertically, yielding sixteen 2″x3″ rectangles. Stack the rectangles on top of each other and place them into the pan so they are like an accordion, with the 2″ side facing vertically. Place a piece of aluminum foil loosely over the top of the bread and bake for 45-50 minutes, until the top is nicely golden brown and it is cooked throughout.
While the bread is cooking, make the maple syrup glaze! Pour all ingredients in a small bowl, whisking to combine. Drizzle on top of the bread once it is cooked! Allow to cool for 10 minutes before serving.
The mix used and gift cards awarded in this post were generously gifted from King Arthur Flour. All opinions expressed here are my own.