There are certain cookies that instantly take me back to my childhood—Dunkaroos, Famous Amos, animal crackers. Lunches where you'd eagerly open up your brown paper bag to see what Mom packed for dessert. Afternoons coming home from school when you'd reach into the snack drawer for a treat.
Though I'd like to believe all cookies were created equal, there was one that always stood out for me. A cookie that I couldn't get enough of. Fig Newtons. 
That jammy fig center enveloped by a slightly sweet, soft cookie. The crunch of the fig seeds as you bite in. The slight citrus tang you get in each and every mouthful. Yep, they're pretty much perfect.
So in making my own homemade Fig Newtons, I channeled my inner child and tasted every step of the way, and wound up with a pretty damn good recipe. The cookies have the same shape and texture as the real thing, and the fig tastes spot on thanks to some fresh orange zest and a hint of cinnamon.
Plus, nearly everyone that sees them will be instantly transported to their childhood, making the sharing of these cookies extra special!
Also, dipping these in milk is not optional 😉
Tips for making homemade Fig Newtons
The individual parts of this homemade Fig Newton recipe are fairly straightforward. Make a batch of cookie dough and refrigerate it for at least an hour. Make the fig filling and blend it up a food processor until it's the right consistency. Easy, right? Right!
But once you've prepped the cookie dough and the spiced fig filling, you have to assemble the cookies. This is the part that requires a little extra brain power. To make these cookies, you'll first need to roll out the cookie dough into a large rectangle. Then, cut the rectangle into three large strips.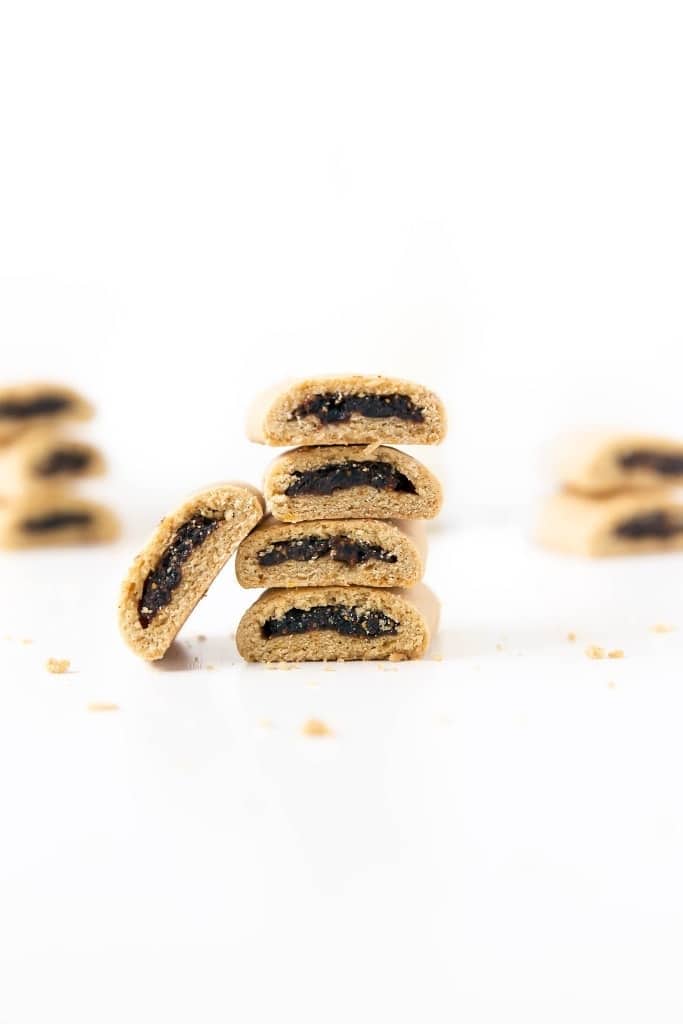 Once you've cut the cookie dough, fill a plastic bag with the fig filling. Snip off one edge of the bag and pipe a thick line of filling into the center of each cookie dough strip. Then you simply have to fold the dough over the filling (be careful!) and seal the edges as best you can.
The filled cookie dough logs get baked as is, and then you need to cut the logs into Fig Newton-sized cookies once they come out of the oven. The whole process goes by surprisingly quickly and is really easy! As long as your cookie dough logs are sealed properly you should have no problems making these homemade Fig Newtons.
These cookies keep well in a sealed container on your countertop for up to a week.
Print
Homemade Fig Netwons
Scale
Ingredients
For the cookie dough
1/2 cup

unsalted butter, softened

1/2 cup

light brown sugar

1

large egg, room temperature

1 teaspoon

vanilla extract
zest of

1/4

orange

1 cup

all purpose flour

1/2 cup

whole wheat pastry flour

1/4 teaspoon

cinnamon

1/4 teaspoon

baking soda

1/2 teaspoon

salt
For the fig filling
9 oz

dried black mission figs

1/2 cup

water
juice of

1/2

orange
zest of

1/2

orange

1/2 teaspoon

cinnamon

1/2 teaspoon

salt

1 tablespoon

honey
Instructions
In a large bowl, cream the butter and sugar until light and fluffy, about 3 minutes. Beat in the egg, vanilla extract, and orange zest.
In a separate bowl, combine the flour, whole wheat pastry flour, cinnamon, baking soda, and salt. Sift the dry ingredients over the wet, then mix until just combined.
Scoop the dough into a ball and cover with plastic wrap. Chill for at least 1 hour, or up to 1 day.
To make the fig filling, place all ingredients except for the honey into a small saucepan and cook over low heat for 10 minutes, until the liquids have evaporated and the figs begin to plump up. Remove from heat and allow to cool for a few minutes. Then, place all ingredients in a food processor, drizzle in honey, and pulse until a thick paste is formed. Remove paste from food processor, then place in a large ziplock bag.
Preheat oven to 325°F. Line a large baking tray with a silicon mat or parchment paper. Set aside.
On a floured surface, roll the chilled dough into a 10″ x14″ rectangle, using a knife or pizza cutter to cut even edges. Cut the dough lengthwise into three 3.5″x14″ strips.
Cut a 3/4 inch tip into the corner of your ziplock bag and squeeze the paste down the middle of each strip of dough. Then carefully fold each edge of dough on top of the fig paste, making a log, sealing the edges as best you can. Roll each log slightly to bond the dough together, then place seam side down onto your baking tray.
Bake for 20 minutes at 325°F, then turn on the broiler for 1 minute to slightly brown the tops of the cookies. Remove from oven and cut each log into 2″ cookies. Devour!
More easy cookie recipes from Broma Bakery:
Softbatch Pumpkin Chocolate Chip Cookies
White Chocolate Blueberry Oatmeal Cookies