Happy hump day! This week is flying by for us, so let's take a moment to stop and smell the roses…or stop and eat the salted caramel 🙂 Today we're sharing our foolproof recipe for the best homemade caramel you'll ever have. Made with just three easy ingredients and no special equipment or thermometers, we're here to show you that homemade caramel sauce is actually super approachable.
Our tips for the best homemade caramel:
Use high quality butter: You're only as good as your ingredients and with caramel your butter quality can really make or break your sauce. This is one time when it's a good idea to splurge on that box that's a few dollars more expensive.
Never leave your caramel sauce unattended: To make caramel sauce you essentially toast white sugar until it's melted, before adding in butter, cream, and salt. Your sugar can go from toasty to burnt pretty quickly though, so make sure you keep a close eye on it!
Don't forget the salt! Caramel is simply too sweet without it. A healthy amount of salt really deepens the flavor profile and will keep your caramel from tasting overly sweet.
This step by step guide will break it allllll down for you so that you, too, can eat delicious salted caramel by the spoonful unashamedly in your home. YOU. ARE. WELCOME.
Let's get to it, babes.
Step One: Place the sugar in a heavy bottomed saucepan over medium heat. Move the sauce pan around every few minutes to keep the sugar heating evenly, but do NOT stir constantly
Step Two: Keep an eye on the sugar, stirring it every few minutes until it melts.
The sugar will clump first and eventually start to melt. This can take up to 15 minutes. Be patient! You'll know your caramel is done when it's fully liquid and no clumps of sugar remain.
This is what your caramel should look like by the end of this step:
Step Three: Remove from heat. Add butter to the melted sugar and stir to combine.
The mixture will begin to bubble violently. I know the normal human reaction to this would be alarm, but this is exactly what the homemade caramel should be doing! The butter is much colder in comparison to the hot sugar, so they're just trying to get to know each other. Sparks are flying.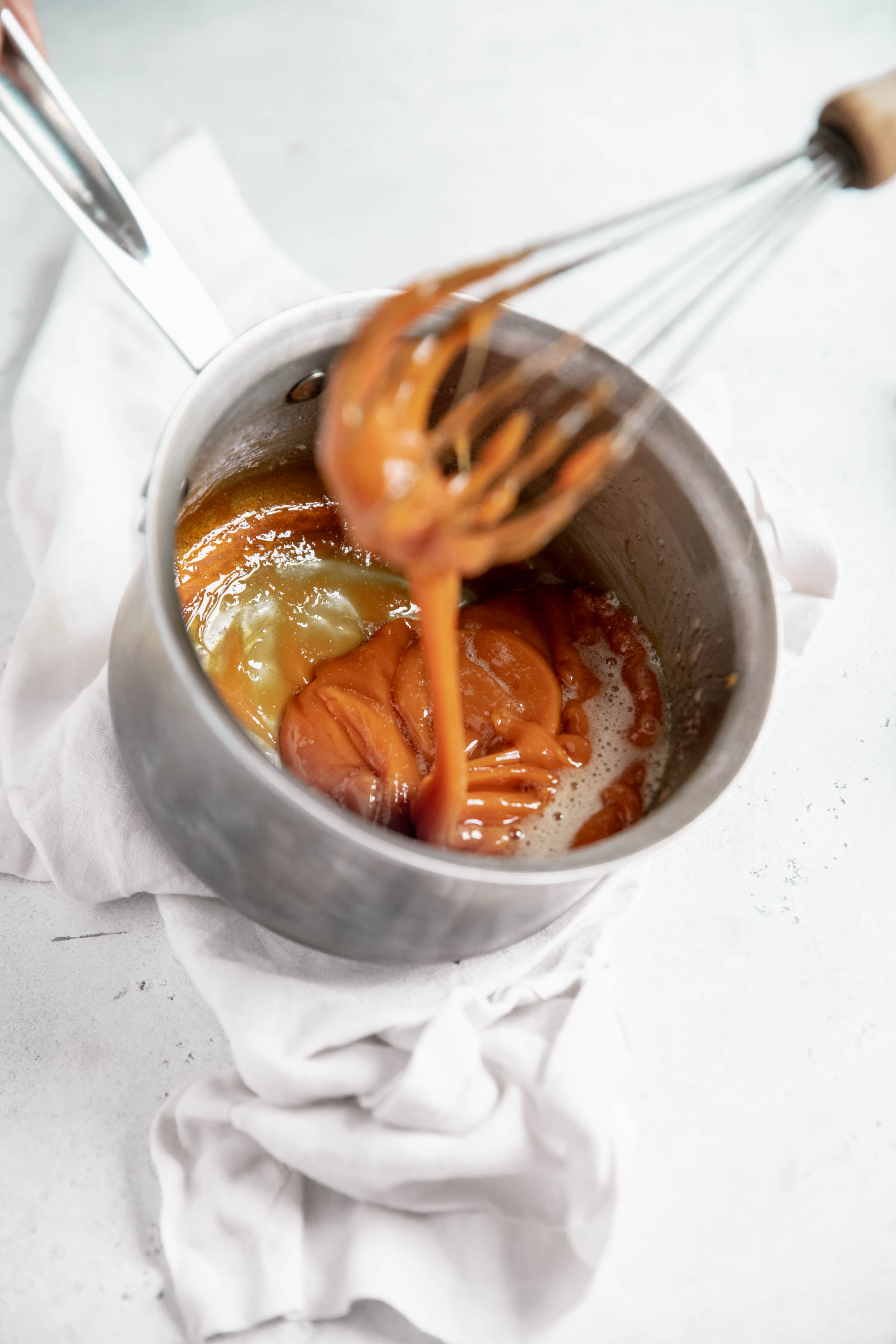 After a few minutes of stirring the two will start to combine. Just keep whisking until they are completely homogenous
This is what the caramel should look like by the end of this step: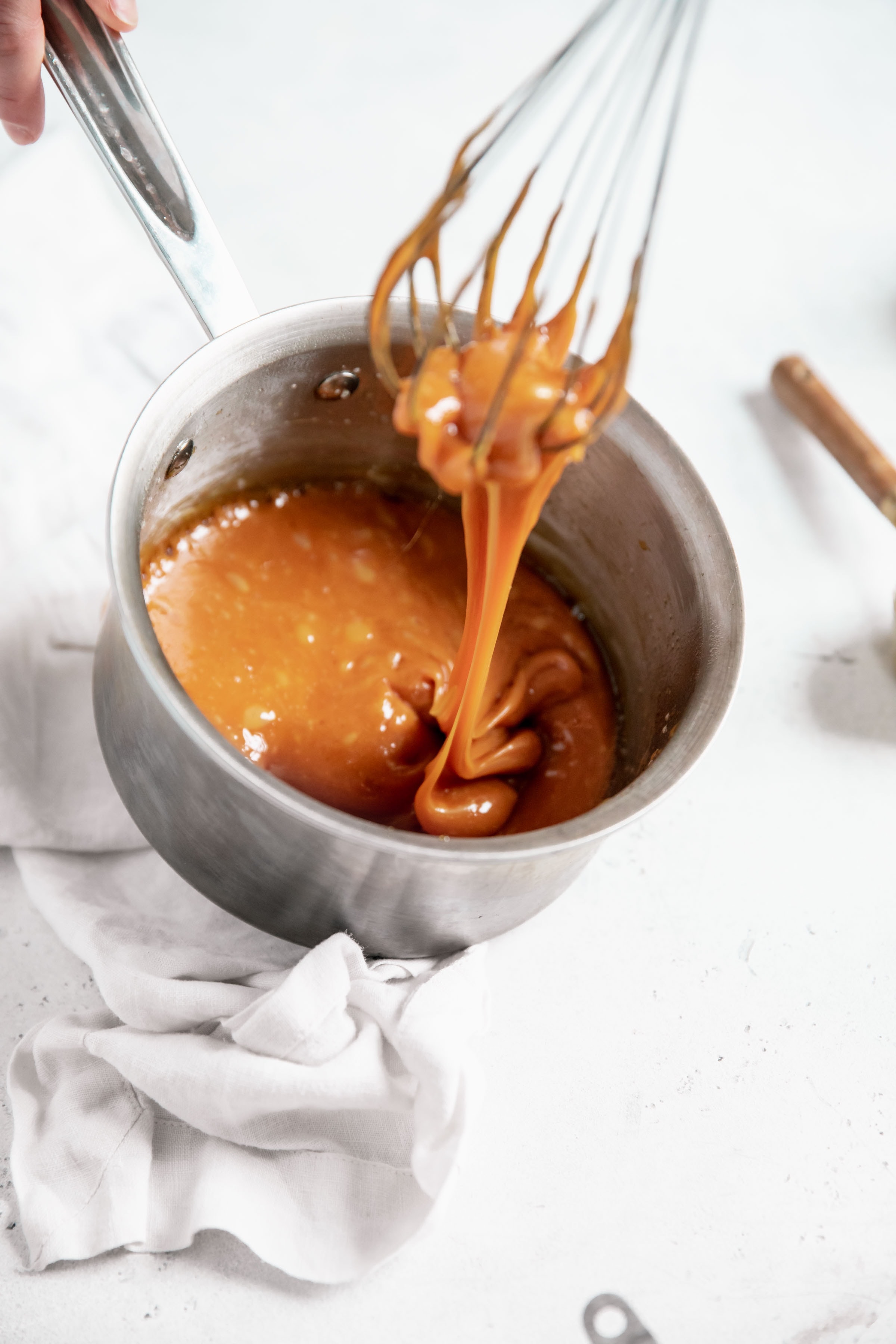 Step Four: Pour in the cream and salt, and stir until completely combined.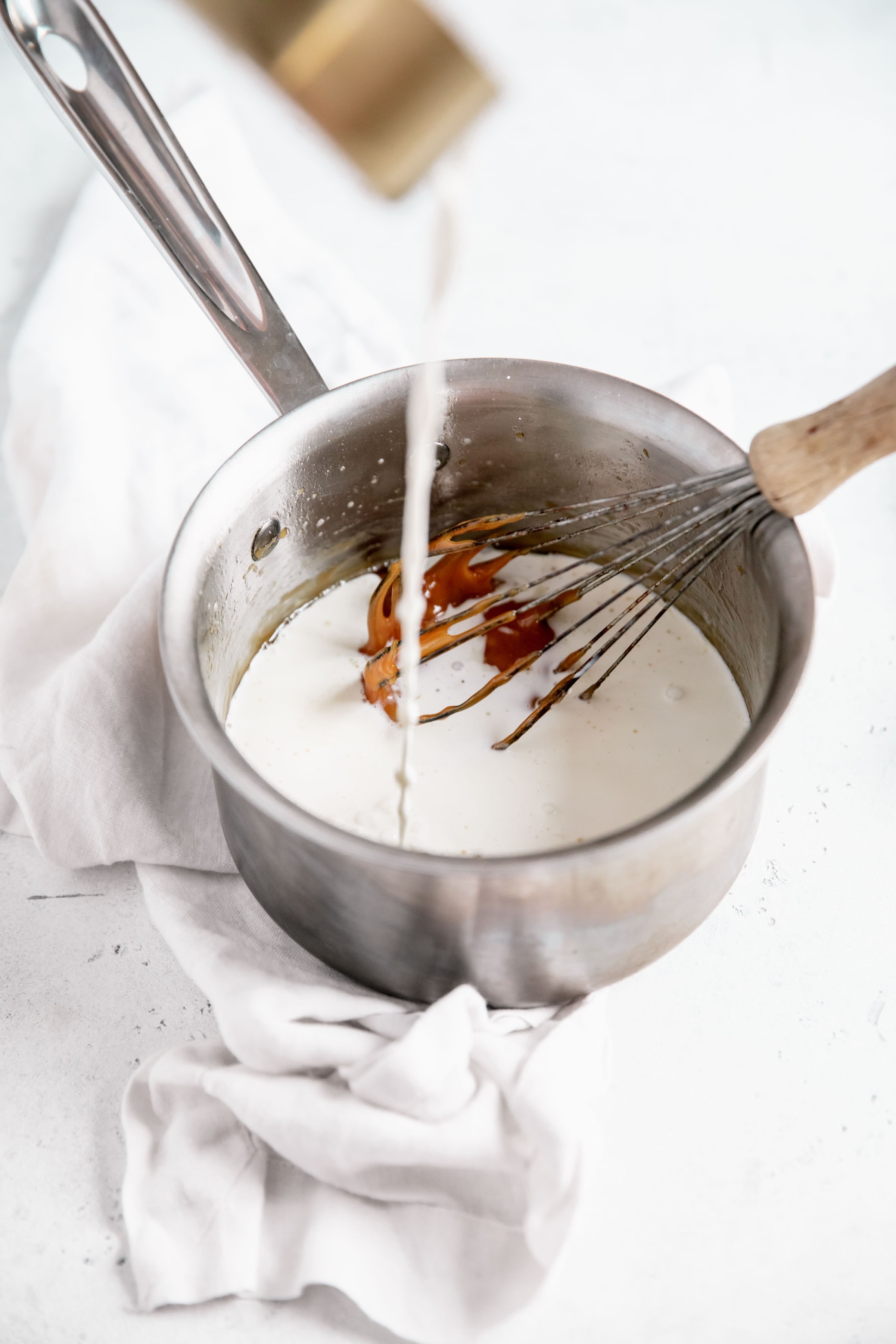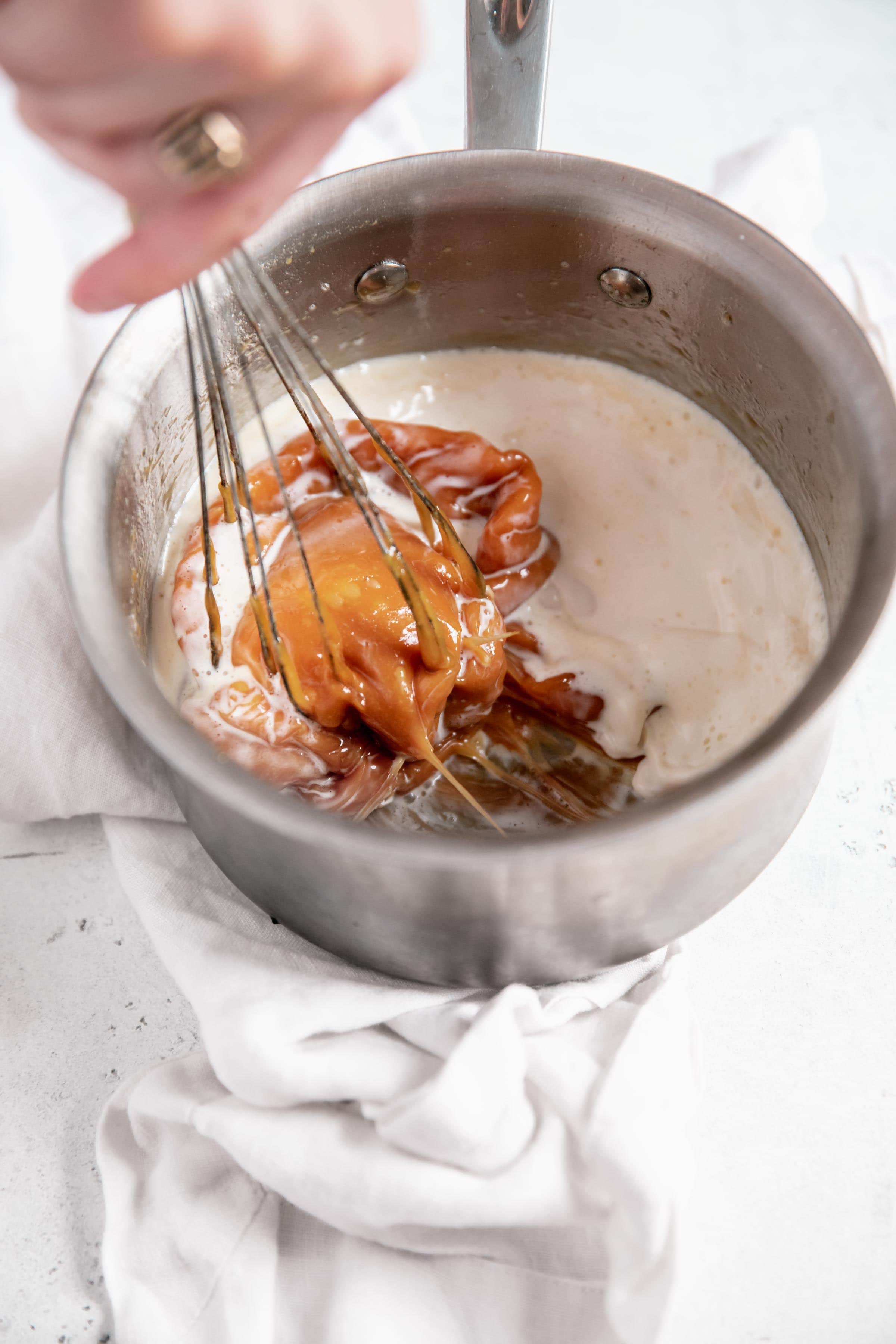 This is what the caramel will look like at the end!
What to use salted caramel sauce for:
I could go on for literally forever: drizzled over pumpkin cake, in a hazelnut salted caramel tart, as the filling in a cake, in homemade candy bars, sandwiched together between chai macarons, poured over ice cream, in salted caramel sweet potato cupcakes, or…just by the spoonful. We won't judge 🙂
How to store homemade caramel sauce:
You can store this caramel sauce in an air tight container (we love mason jars!) in the fridge for 1 month or freeze for up to 3 months!
Now that you know exactly how to make homemade caramel, no more excuses, guys. It is soooo much better than any kind you could buy at the store. Happy caramel eating 🙂
Print
How to Make Homemade Caramel
Author:
Prep Time:

0 minutes

Cook Time:

15 minutes

Total Time:

15 minutes

Yield:

1 1/4 cup

s caramel

1

x
Category:

sauce

Method:

stovetop

Cuisine:

american
Scale
Ingredients
1 cup

sugar

6 tablespoon

s butter, room temperature

1/2 cup

cream

1 teaspoon

sea salt
Instructions
In a heavy bottomed sauce pan, heat the sugar on medium low heat until its completely melted, swirling the pan gently every 20 seconds or so. The sugar will start to form clumps before melting slowly. Be patient and keep an eye on it to make sure it does not burn.
Once melted, remove from heat immediately and stir in the butter. The mixture will violently bubble. You're doing it right.
Next, pour in the heavy cream and sea salt. Stir until everything is combined.
Pour into small bowl or cup and allow to cool completely before using.*
Notes
*Caramel can be stored in an air tight container in the fridge for 1 month or in the freezer for 3 months!
Keywords: easy, homemade, foolproof, the best, easiest, amazing, salty sweet