The best pantry recipes to use up all the ingredients you already have in your pantry! Using canned goods, pasta, rice, and frozen foods, these easy pantry meals will make the most out of whatever you have on hand!
Pantry Recipes for When you Can't Leave your House
Good morning, my loves. We polled you guys asking what you needed from us during this hard, strange time that we're living in, and one of your top requests were the best pantry recipes AKA recipes made with minimal ingredients for when you can't leave your house. Made from dry goods, frozen meats, non perishables, and ingredients you probably already have on hand, you'll love these heart warming, cozy recipes from some of my most favorite bloggers!
Enjoy 🙂
Ingredients you should always have in your pantry:
These pantry recipes are made with ingredients that last a long time in your cupboard. Not only does this decrease food waste, it's also great if you're not heading to the grocery store anytime soon. We recommend stocking up on the following essentials for your pantry and fridge/freezer!
Pantry Staples:
rice
pasta
orzo
quinoa
oats
beans
lentils
chickpeas
nuts
nut and seed butters (peanut butter, almond butter, tahini)
seeds
tomato sauce
canned vegetables
dried herbs and spices
tomato paste
olive oil
canned meats (like tuna!)
shelf stable milk alternatives (almond milk, coconut milk, etc.)
potatoes
Freezer and Fridge Staples to have on hand for Pantry Recipes!
frozen fruits
frozen vegetables
frozen meats (chicken, beef, turkey, etc.)
eggs
milk
yogurt
frozen bread
As always, feel free to substitute with you have on hand for any of the recipes below!
This recipe is on repeat in our house during the winter. You can easily make it without the kale and bell pepper and it will still taste amazing! And if you don't have fire roasted tomatoes, you can sub a 14 oz can of diced tomatoes and 1 1/2 teaspoons of smoked paprika.
Credit: Pinch of Yum
My favorite enchilada recipe EVER, regardless of if there is a quarantine or not. If you have a can of enchilada sauce on hand already, you can sub that for the homemade stuff. Otherwise, this one is DELISH. These enchiladas are one of my absolute favorite recipes to make for a crowd, and they're super easy to transport if you want to drop off a meal for a neighbor!
Credit: Ambitious Kitchen
I don't even know where to start with this recipe. I want to say it's better than regular mac and cheese, but I know you won't believe me. But as soon as you taste it, you WILL change your mind. It's just that good. Plus, it's made with shelf stable almond milk, cashews, and nutritional yeast in place of cheese and dairy milk so it all comes straight from your pantry.
I love a good minestrone, and with nearly all pantry ingredients, this soup makes dinnertime a breeze. Plus, it's freezer friendly, meaning you can whip up a big batch and save it for later if you're just cooking for one or two!
Credit: Ambitious Kitchen
Do you have pasta, tomato sauce, cream and vodka? Then you need to run to your kitchen to make this RIGHT. NOW. I made it this week, had maybe 4 servings, and don't regret a thing. And bonus tip: if you're out of cream, you can substitute ¾ cup milk and ⅓ cup melted butter.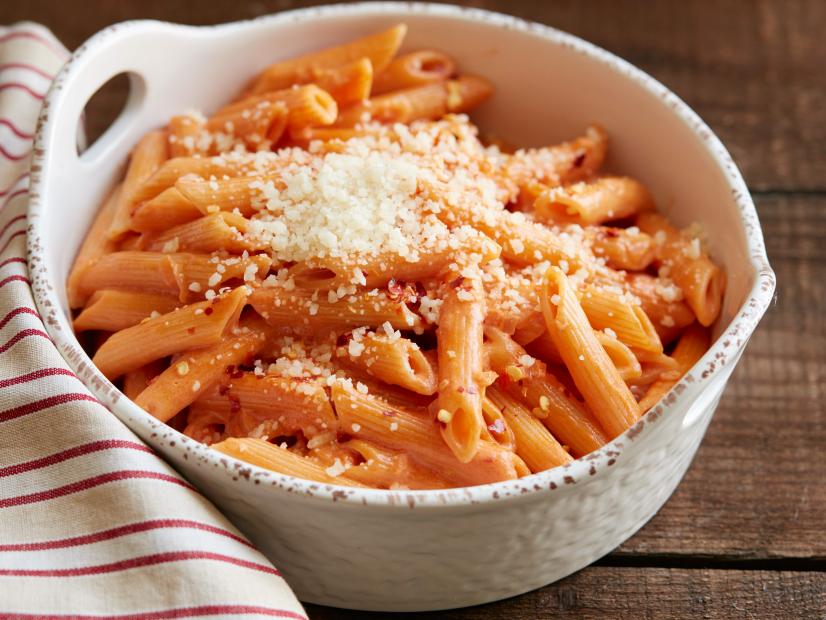 Credit: Food Network
Chili is the ultimate pantry recipe, amiright? This one from Cookie and Kate is fabulous! Plus it's packed full of protein to fill you up so you won't snack allll day and night long while you're holed up in your home.
 Credit: Cookie and Kate
Ff you have tomatoes, eggs, and a handful of spices on hand, you can make shakshuka, or eggs baked in a spiced tomato sauce. Don't have Turkish seasoning? Use ½ teaspoon of paprika, ½ teaspoon cumin, and ¼ teaspoon cinnamon. 
Lentils are incredibly shelf-stable, and combined with tomato and warm spices like cumin and coriander, this soup is a no-brainer.
Credit: Ambitious Kitchen
Almost all pantry ingredients, a house that will smell delicious for hours, AND a way to use up all those beans? Yes please!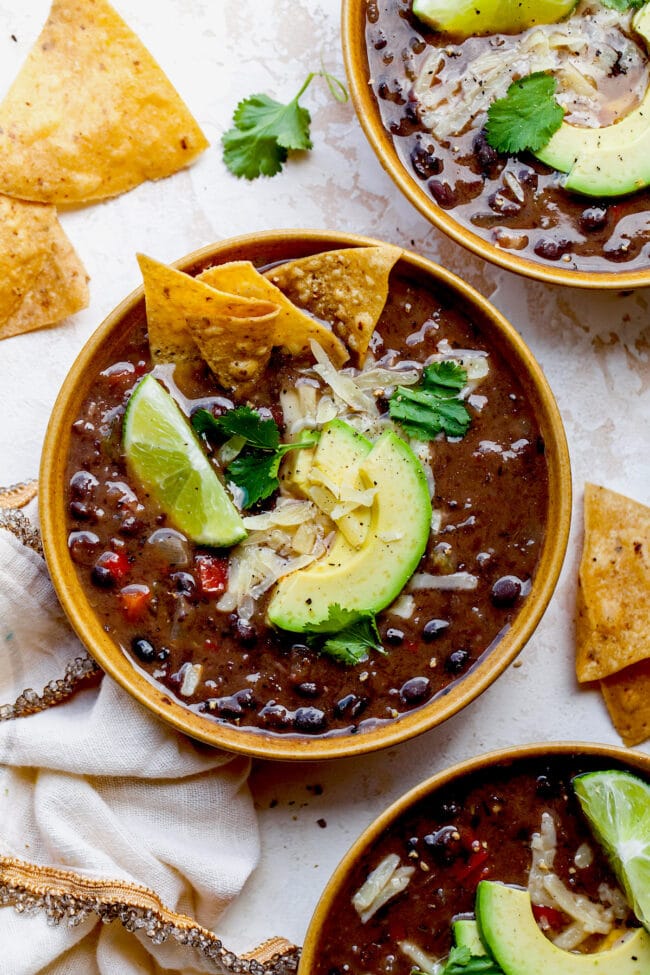 Credit: Two Peats and Their Pod
I'm drooling, are you drooling? Simply take frozen chicken and throw it in a slow cooker with coconut milk, ginger, and spices and you have yourself the best thai curry chicken imaginable. Serve it over a bed of rice for an instant comforting meal.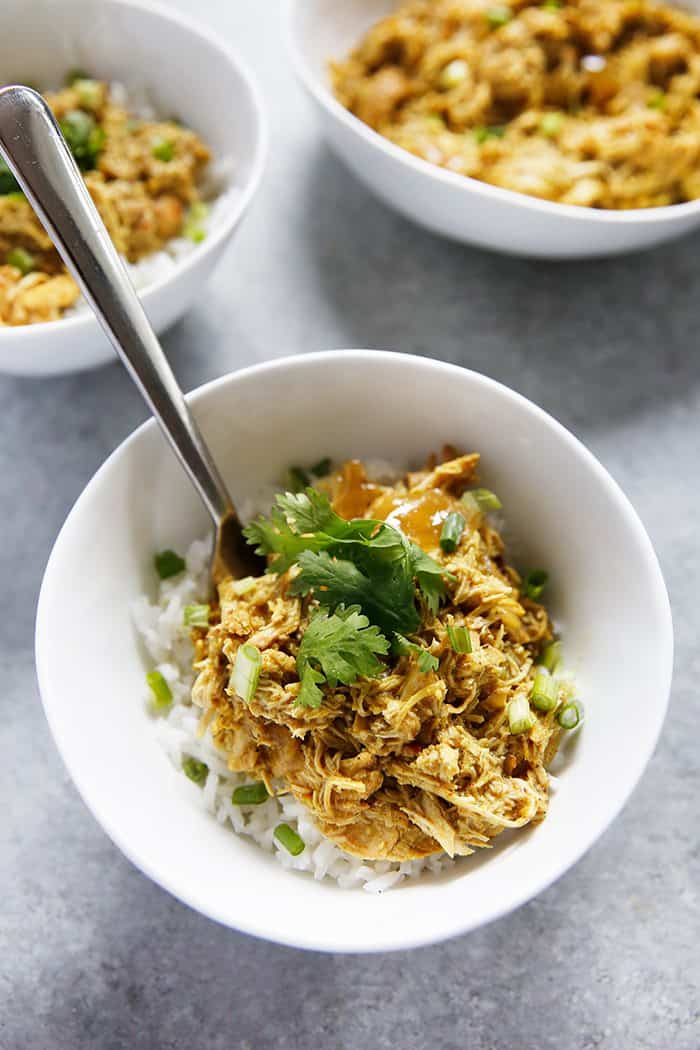 Credit: Lexi's Clean Kitchen
If you have frozen ground beef on hand, consider using it in this delicious goulash. I have made this recipe 3 times and each time I fall in love with it more and more!
Credit: Rosalynn Daniels
OK so I know it's a lot of ingredients, but chances are you have most of them in your cabinets already. You can even omit the chicken and it'll still taste incredible!
Pasta Fagioli is a comforting Italian soup made from pasta and beans. It's quick, easy, and delicious! 
Credit: Skinny Taste
Looking to do something with all those chickpeas? How about making my favorite hummus recipe of ALL TIME! It's creamy, flavorful, and takes less than 5 minutes to make. 
 Sub frozen spinach in for the fresh stuff and you've got yourself a hearty one-pot meal! When I lived alone I'd make a giant batch and freeze half for a later date (it'll keep for months!). 
Credit: Simply Recipes
 I love a good white bean soup, and this one takes the cake. Bonus: it uses dried rosemary and thyme, so it's entirely pantry-raidable!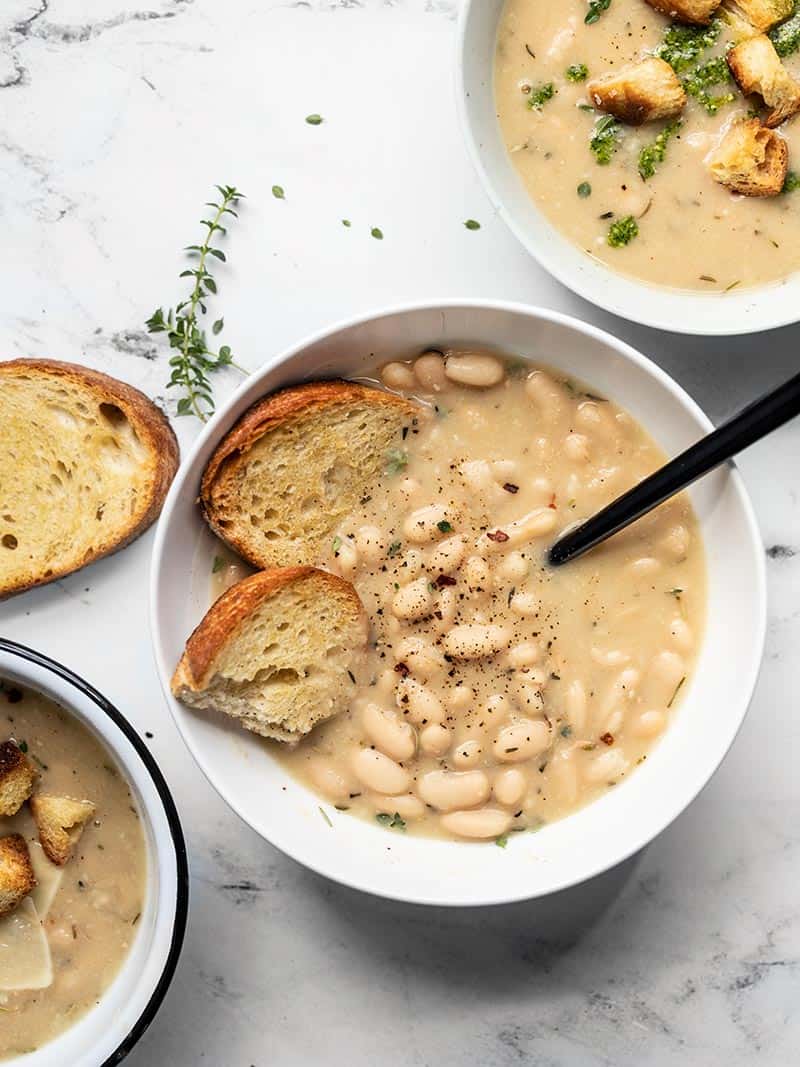 Credit: Budget Bytes
I've been meaning to try this recipe for a while now, and this week might be just the time. Tuna is a great lean protein perfect for adding into your pantry recipes, and combined with lemon & garlic, it tastes springy and delicious!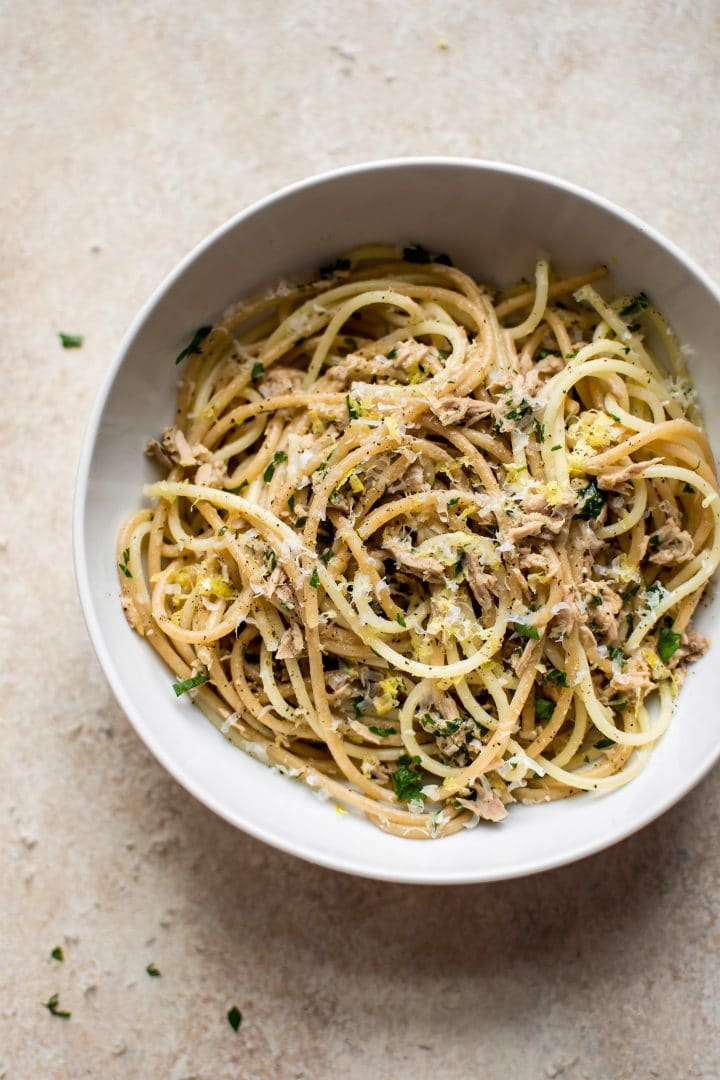 Credit: Salt and Lavender
What could be better than chicken soup loaded with ginger and turmeric? Not much, friends. To make it truly pantry staples, substitute the shallot for ¼ of an onion, do frozen instead of fresh spinach, and skip the fresh herbs.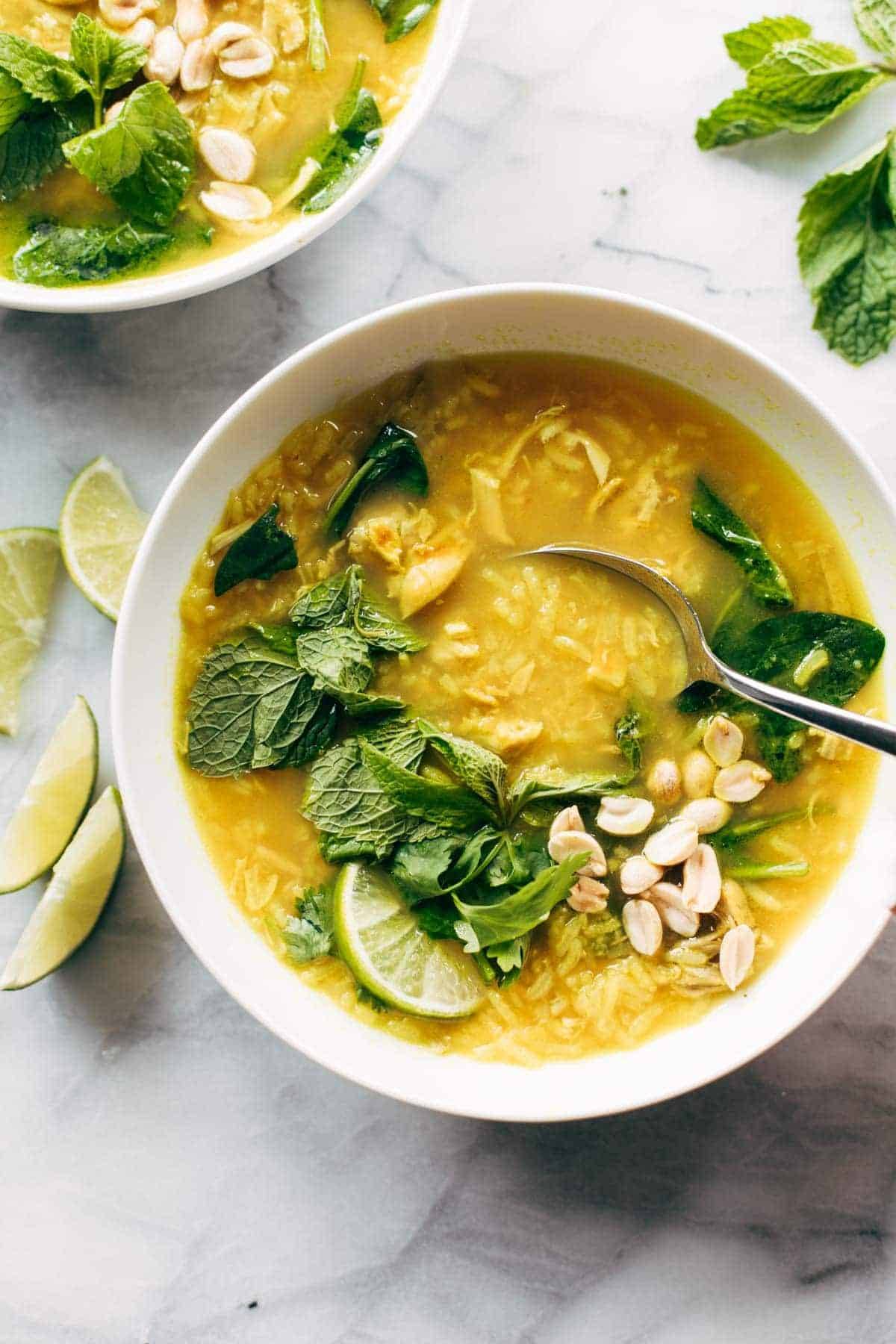 Credit: Pinch of Yum
Sometimes all you need is a giant bowl of baked ziti. This one uses ground beef, but you can easily make it without if you don't have meat!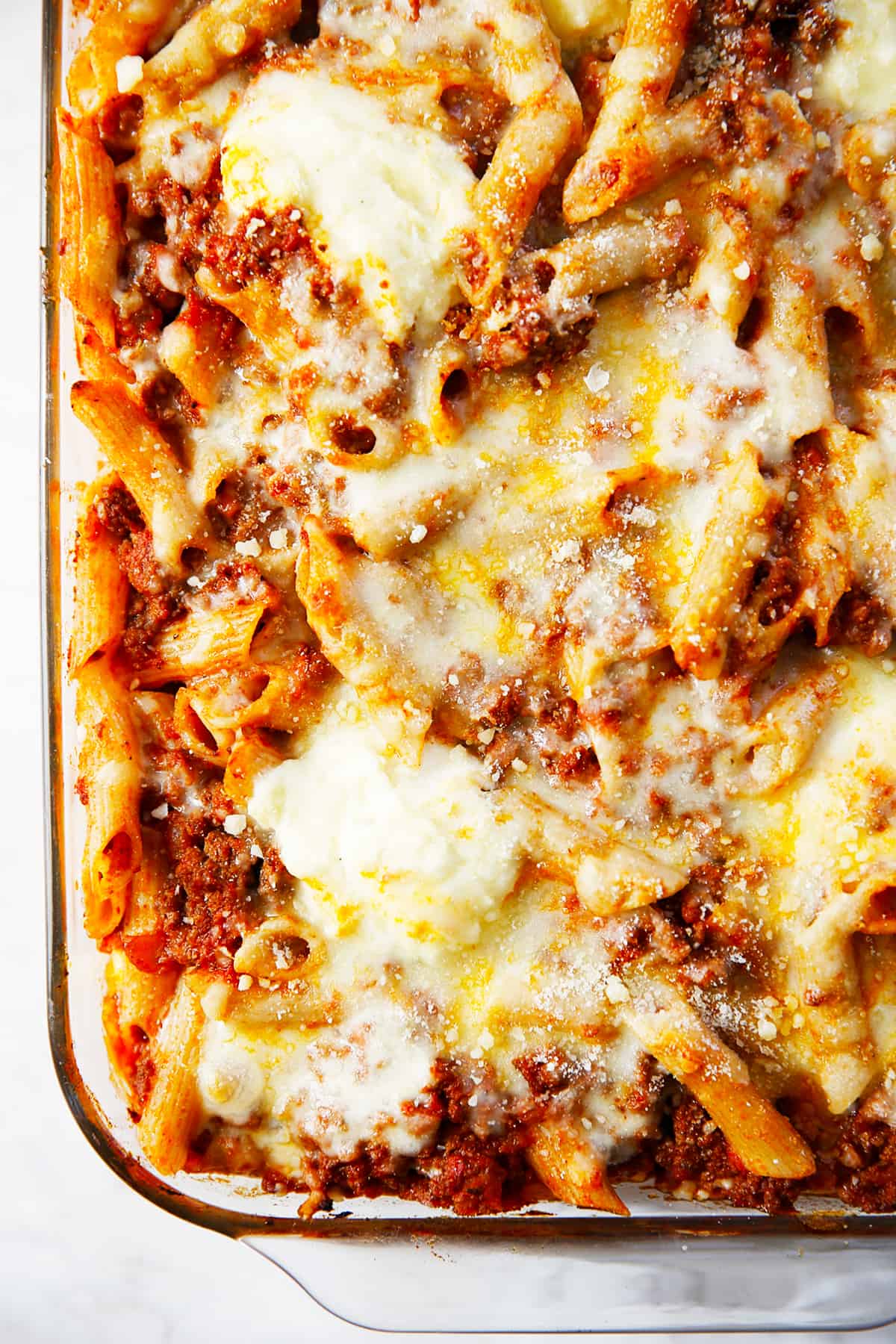 Credit: Lexi's Clean Kitchen
Sausage lasts a while in the fridge, so if you have some on hand consider using it in this pasta dish. If you don't have escarole, you can use frozen spinach or chard! 
Credit: Skinny Taste
20 minutes, big flavor, and a way to use all those chickpeas in the cupboard? Count me in.
Credit: A Couple Cooks
You can't go wrong with veggie fried rice. This version calls for a number of vegetables, but honestly you can throw in whatever you have on hand (sometimes for me that simply means frozen peas, carrots, and green beans!)
Credit: Cookie and Kate
 If you have frozen shrimp on hand, this risotto can't be beat. Substitute the fresh tomatoes for canned diced tomatoes et voila! Dinner in no time! This is one of my absolute favorite pantry recipes that tastes seriously fresh and gourmet, even though it's made from frozen foods and dry goods!
We hope you enjoy these pantry recipes as much as we're going to over the next few weeks! What other things are you planning on cooking this week?